CVBS Attends the Annual ISSA Show North America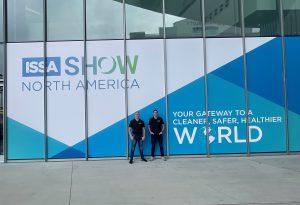 On Tuesday, November 16th Operations Manager, John Elarde and Project Supervisor, Joe Elarde attended the annual ISSA Show in Las Vegas, Nevada. CVBS works hard to ensure their employees are kept up to date with the latest standards, education and technology in the industry.
ISSA is the leading trade association for the cleaning industry worldwide and is dedicated to promoting cleaning as a valuable investment in human health, the environment, and an improved bottom line. The association is the central resource for industry information, professional standards, education, networking, and commercial opportunities, and represents the industry voice in our government and our communities.
To learn more about ISSA click here.