Rust Removal Using F9 BARC
F9 BARC is specifically formulated to remove BOTH orange battery acid staining AND rust stains. This includes the entire spectrum of the rust family: thin, thick, topical, embedded, and fertilizer staining. It is easy to apply and does not require scrubbing, brushing, or elbow grease.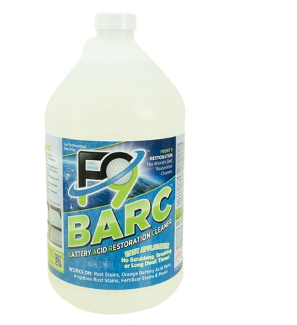 About the F9 BARC Concrete Rust Remover
F9 BARC is the world's best rust remover. Specially formulated to remove both orange battery acid and rust stains; including the entire spectrum of rust on concrete, brick, pavers, stone, stucco, pool decks, asphalt, rubber, epoxies, painted surfaces, concrete coatings, shingles, and more. Quickly and easily remove stains without scrubbing, brushing, mixing, or messy pastes.
F9 BARC chemically locks into the concrete, reversing 80- 100% of the orange battery or rust staining, and restores concrete and other surfaces to their natural gray color. Biodegradable, non-abrasive, and non-flammable; it's safer than hydrochloric acid is for people and plants. The preferred method of cleaning concrete prior to application of F9 BARC is professional power washing. The concentrated formula will go a long way. For applications on surfaces other than concrete, F9 may be diluted with up to 3 gallons of water. Always perform a test prior to application to confirm compatibility and desired strength.
Categories: